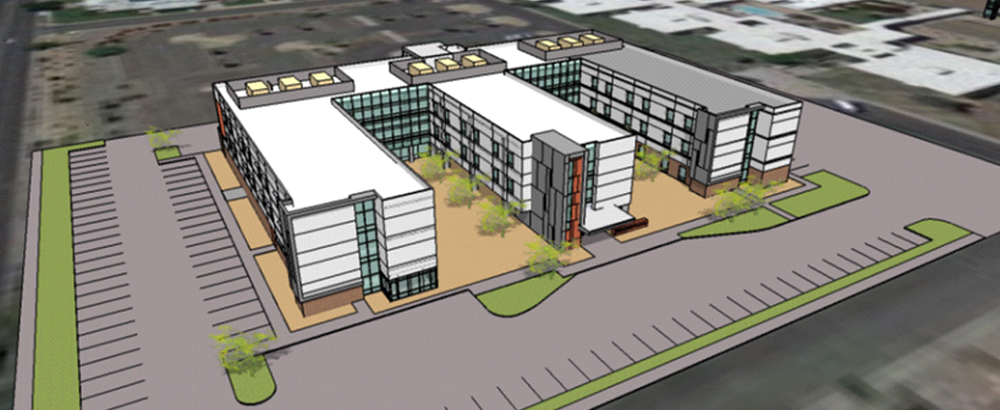 Introducing La Ciudad
La Ciudad is the vast new bioscience and biomedical campus in the heart of downtown Phoenix that will change the future of research and healthcare delivery. La Ciudad encompasses a ±47-acre redevelopment site strategically located at the epicenter of the booming Phoenix bioscience cluster, amidst leading intellectual capital including:
THE PHOENIX BIOMEDICAL CAMPUS including Translational Genomics Research Institute (TGen and TGenII), International Genomics Consortium, University of Arizona (UofA) Medical Campus, UofA Cancer Center/National Cancer Institute, and dynamic research space that is fast approaching ±1.1M SF
TOP HOSPITALS including St. Joseph's Hospital with Barrow Neurological Institute and ±200,000 SF of research space, Banner Good Samaritan Hospital; St. Luke's Hospital and Research Campus, Southwest Autism Resource & Research Center, Arizona Heart Hospital with the Arizona Heart Institute Research Center, Phoenix Children's Hospital; and Maricopa County Medical Center
RELATED EDUCATIONAL INSTITUTIONS including University of Arizona (UofA) Medical School, UofA School of Pharmacy, Phoenix Bioscience High School, ASU Center for Applied Behavioral Health, and ASU School of Nursing
KEY FUNDING & RESEARCH FOUNDATIONS such as TGen Foundation, Science Foundation Arizona, Flinn Foundation, Virginia Piper Charitable Trust, Chan Soon-Shiong Foundation/Institute for Advanced Health, St. Luke's Health Initiatives, Ivy Foundation, and Legacy Foundation
To flourish, research organizations require a knowledge-driven, synergistic ecosystem that supports innovation and flexibility leading to important new advances. Life science industry leaders face the challenging dilemma between operating within mature bioscience clusters where demand wanes and M&A activity results in redundant facilities and teams -- or strategically growing in emerging clusters to build new synergies, capture new market share, seize untapped human talent, and realize significant savings.
At La Ciudad, we are carefully creating the next generation of facility infrastructure to support life sciences companies in all facets of bioscience and biomedical research and development across the "laboratory bench-to-bedside" continuum, including new disciplines such as personalized medicine, regenerative medicine and mobile health.
In the Phoenix bioscience cluster, top teams are making groundbreaking advances in broad-based cancer research, Alzheimer's prevention, algae research, brain cancer, rare pediatric cancers and disorders, skin cancer, pancreatic cancer, Multiple Sclerosis, bone-marrow transplantation, Cerebral Palsy, and a plethora of other advancements. — And plans for an expansive new global center for neurological research is already underway — right at La Ciudad.
La Ciudad has tremendous momentum, and the biggest opportunities vanish quickly. Look closer at all of the reasons why you should consider La Ciudad – low research facility costs, state & municipal incentives, nation-leading R&D tax credits, other bioscience companies in Phoenix, low housing and cost-of-living costs, excellent schools, and an unbeatable climate. — Your competitors certainly will.